TKD Tigers
What is TKD Kids?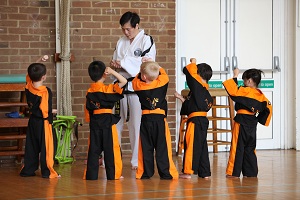 TKD Tigers means Total Kids Defence!
Tigers its a life-skills course for 3-6 year olds.
TKD Tigers is a life skills program, which teaches the child some important lessons in growing up.
These themes include:
Fire safety
Bully drills
Stranger awareness
Water safety
Fire safety
Health and fitness
Global awareness
Road safety
And an introductory to basic skills in Taekwon-do
TKD Tigers encourages good behavior in and outside the classes
The Tigers are rewarded for regular attendance and for completing tasks set by parents such as tidying their room or completing their homework.
TKD Tigers can help your child's development in many ways
Tigers is a great course to improve your child's self-confidence, balance, knowledge, memory and many other areas in their development.
TKD Tigers brings parents and children together through fitness and fun
Your child's life is precious. So give them a head start and sign up for a free trial lesson and see how we can help.
For the latest news please visit our TKD Tigers Facebook Page.