Master Alan Liu VII
Master Liu started his Taekwon-Do journey from a very early age.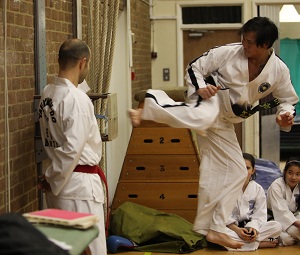 It was through his Grandmother that he became interested in Taekwon-do. She used to make uniforms for Master Choy (then a 1st Dan) to sell to his students. The young Master Liu would often dress up in the small uniforms and run around the house, attacking anything that would wander to close to him (his poor brothers normally).
A few years passed and at the tender age of thirteen years old he was persuaded to train properly with Master Choy (3rd Dan by now) at the well known Hillingdon school of Taekwon-Do. Some internationally known students have trained at this school, Master Tham Ying Au 8th Dan, Gary Daniels (martial arts actor), Master Trevor Nicholls 8th Dan, Master Wayne Brown 8th Dan and Mr Roger Koo, all taught by Master Choy from white belt.
Training was very hard and Master Liu realised he didn't know anything about how to kick properly and even punch. Master Choy was a real taskmaster and very strict at times, Master Liu really wanted to give it up. He was a chronic asthmatic and all the exercises and sparring used to hinder him, but because of all those years sparring and exercising, Master Liu's asthma has completely disappeared.
Master Liu reached the rank of 6th kup (Green belt) at the end of 1981 but his parents decided to move house and he had to give up training. The years passed by and Master Liu still kept in touch with Master Choy, he would tell him how his fellow students were doing and how some of them would get their Black belts. Master Liu used to get a bit jealous but he didn't return to Hillingdon TKD School until he could drive. So in May 1988 and now 19 years old, he came back. Lots of new faces and a few old ones and some even reaching 4th Dan. He had some catching up to do.
Master Liu forgot how hard and cruel Master Choy was, but it was for his own good, he taught great Taekwon-do and was and still is a perfectionist. Master Liu took his next grading in June and then entered his first tournament. In which he won nothing. In fact it wasn't until he reached his 4th Kup (Blue belt) before he started winning trophies.
Master Liu graded for his Black belt in 1988 and passed with distinction, since then he has take a further six more Dan gradings and now holds the rank of 7th Dan Master. He took over the Bracknell TKD school in 1992 and it has flourished ever since. He opened another school in Addlestone in 1997. He teaches men women and children from the ages of 7 upwards. He has trained a number of students to the coveted Black belt.
One of Master Liu's best achievements was to be selected to fight for Great Britain at the prestigious Moran Bon Cup, which was held in Japan. But the greatest feeling for Master Liu is seeing his students do well at tournaments. At every competition one of Master Liu's students from Bracknell or Addlestone wins something. Best of all was a fourteen year old boy, Aaron Gregory from the Addlestone TKD school, who was selected to fight for England at the 2002 Junior World Championships.
Taekwon-do has even given Master Liu the opportunity to do some stunt work on a few TV programmes. The Wanderer (Sky One) featured a fight scene with Brian Brown (FX2 and Cocktail) and a memorable gunfight with Euan McGregor and Jane Horrocks on the set of Tales from the Crypt. He also recently turned down an offer to play a part in Tomb Raider 2. His last filmstar outing was in Batman Begins (2005) where he starred as a shadow ninja.
Master Alan Liu training with the founder of Taekwon-do - General Choi IX Dan (1999)